Here you are. One of the most underrated and influential bands of all timezzzzz! The band itself was influenced by a wide array of musicians (the way it should be... young musicians take note), including The Beatles, Velvet Underground, James Brown, Sly Stone, Hendrix, Frank Zappa, and Miles Davis. While that list doesn't seem like anything other than the basics, where it's gets real interesting is when they incorporate their deep love of indigenous world music, something that is sewn into every song. Their progressions are insane, and each player is a near virtuoso of their instruments.
The laundry list of bands influenced by Can is as follows (from
their wikipedia page
):
Major artists working in the post-punk genre such as The Fall, Public Image Ltd., Siouxsie and the Banshees, Joy Division and other acts like David Bowie, Talking Heads, The Stone Roses and Primal Scream have cited Can as an influence. Brian Eno made a short film in tribute to Can, while John Frusciante of the Red Hot Chili Peppers appeared at the Echo Awards ceremony, at which Can were awarded the most prestigious music award in Germany,[15] to pay tribute to guitarist Michael Karoli.
John Lydon, formerly of the Sex Pistols, formed Public Image Limited patterned after Can's early 1970s five-member lineup. Lydon was mooted as a possible singer for the band, but initial conversations amounted to nothing, much to Can addict Jah Wobble's dismay (though he went on to many collaborations with the constituent members of Can himself). During their Kid A tour, Radiohead performed a cover of the song "Thief" from Delay 1968 [16], and have claimed Can as an influence. Mark E. Smith of The Fall pays tribute to Damo Suzuki with the track "I Am Damo Suzuki" on the 1985 album This Nation's Saving Grace. The Jesus and Mary Chain used to cover "Mushroom" live in the mid-1980s. The Flaming Lips wrote their song "Take Meta Mars" off their In a Priest Driven Ambulance album after hearing "Mushroom" just once. The songs bear great resemblance.
At least four notable bands have named themselves in tribute to Can; The Mooney Suzuki for Malcolm Mooney and Damo Suzuki; the indie rock band Spoon after the hit "Spoon"; the electronic band Egebamyasi, formed by Scottish musician Mr Egg in 1984, after Can's album Ege Bamyasi; Hunters & Collectors after a song on the Landed album. The Scottish writer Alan Warner, born in Oban in 1964, has written two novels in tribute to two different Can members (Morvern Callar to Holger Czukay and The Man Who Walks to Michael Karoli respectively). The Sacrilege remix album features remixes of Can tracks by artists who were influenced by Can, including Sonic Youth and U.N.K.L.E..[17] Their ethnomusicological tendencies pre-date the craze for world music in the 1980s. While not nearly as influential on electronic music as Kraftwerk, they were important early pioneers of ambient music, along with Tangerine Dream and the aforementioned band. Many groups working in the post-rock genre can look to Can as an influence as part of the larger krautrock scene, as can New Prog bands such as The Mars Volta. Kanye West has sampled "Sing Swan Song" on his song "Drunk & Hot Girls" from his 2007 album "Graduation". Nu-Krautrock pioneers Die Plankton cite Can as one of their main influences alongside Faust and Neu!.
Besides this, CAN also influenced "classsical" avantgarde composers such as Bernhard Lang and Karlheinz Essl.
So, do yrself a favor and GIT YOU SUM!!! Also, for your listening enjoyment, most of these are at a 320 bit rate.
Can - Tago Mago . Download: Mediafire
Can - Saw Delight . Download:
Mediafire
Can - Soon Over Babaluma . Download:
Mediafire
Can - Rite Time . Download:
Mediafire
Can - Radio Waves . Download:
Mediafire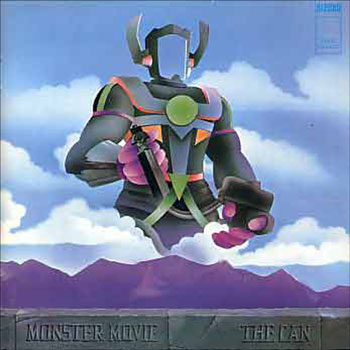 Can - Monster Movie . Download:
Mediafire
Can - Landed . Download:
Mediafire
Can - Ege Bamyasi . Download:
Mediafire
Can - Future Days . Download:
Mediafire
Can - Flow Motion . Download:
Mediafire
Can -Delay . Download:
Mediafire